So Busy Yet Still Pretty
Don't let the busy season stop you from looking your best. We give you, a week of fast, easy-to-do-looks...
Monday: Event d

ay

~ If you are attending a couple of events today, and want to to stand out and make an impression..
How to:

Make an impact by playing up your eyes in a fun, tinsel palette. Apply the silver eye shadow on your top lids. and draw on black eyeliner to prevent the colors from washing out your eyes...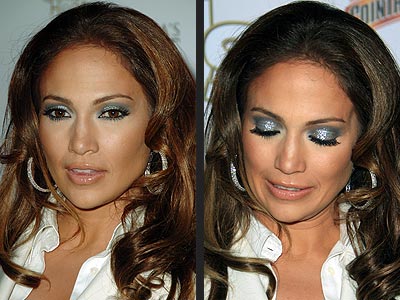 How to: Lining your eyes with a green eye pencil instantly gives you an artsy, bohemian looks. The best part is there's no need to be too precise because the chunk tip is perfect for smudging.
Wednesday: Date Night

Hpw to:
Bright red lipstick can get your date-ready in a snap!
Top it off with gloss to prevent your lips from cracking.
Avoid getting lipstick on your teeth by sticking one finger in your mouth and pulling it out while puckering your lips around it.
Thurday: Casting Call
How to: Layer and blend easy-to-apply creme eye shadows in a great color pallete. These are crease-resistant, plus, they glide on smoothly and stay on all day. Sweep all over your fingertip for a soft, warm glow.
Friday: GET-TOGETHER
How to: Update your look with one of the hottest trends this season: winged eyeliner! Simply draw on black liquid liner in short sweeping motions and extends just past the outer corners of your eyes.
Saturday: Shopping
A day of running doesn't require full-on makeup! Wear a lightweight, sheer foundation to keep you looking fresh. A high SPF (preferably a minimum of 15) can protect your skin from the sun's harsh UV rays.
Sunday: Reunion
How to:

Spread cream blush over the apples of your cheeks and blend with your fingers. Dab a bit of blush on your lips to match the color of your cheeks.